Gunnison pays last respects to Dan Tredway
To honor a great life
Mike Ritchey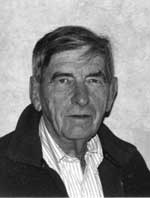 They kept coming. So many. Filling the pews, standing along the walls, even finding a place in the choir loft whether they could sing or not. It took some time, but that was all right. Dan Tredway was rarely in a hurry. He wouldn't mind.
Dan Tredway went quickly, an uncharacteristic pace. He died of a heart attack early Thursday, Aug. 28, at his home on N. Boulevard. That was the house, the old Sullivan house, he moved from Main Street to just the right lot on N. Boulevard. Back in 1965, the year he and his family moved here, well, it must have opened some eyes. It was surely a sight to see.
That story was one of many the crowd heard at the services in Community Church on Monday afternoon, told, as were they all, by his four sons. But everyone in the church could have told a story or two of his own, about Dan Tredway, a man who really got around.
"Love is not boastful, arrogant or rude," said Charles Mory, who had returned from retirement in Florida to help with the service. And that description fit Dan Tredway like a glove.
When his sons thanked all the friends for coming, expressed their awe at the size of the crowd, they said their father would have been embarrassed.
"He wouldn't be up here, talking," they said. "He'd be down there with you, going around, saying hello, shaking your hand, being among you.
"One of the many lessons Dad taught us was that there is no place for judgement. Everyone had a place with Dad."
And, sure enough, among the group gathered on Monday were all makes and models. There were people with long hair, short hair, gray hair, and, yes, no hair at all. There were those who believed this and didn't believe that, sitting beside others who believed that and had no use for this. All had a place with Dan Tredway.
Dan and Nancy (both Dan and his brother, Richard, married girls named Nancy — a little Tredway trivia that's liable to come in handy one day; we still don't know, though, how or where he lost that thumb) were married a long time ago, five months after they met at a coffee house in Kansas. Beatniks, most likely.
On Monday, their granddaughters sang and played piano. Ariel sang "Tears in Heaven," a beautiful song written by the venerable rock guitarist Eric Clapton in memory of his four-year-old son, after the boy fell from a hotel window in New York City and died.
Tillie played the Beatles "Yesterday," and like her grandmother, she played it beautifully. "Yesterday, all my troubles seemed so far away. Now I need a place to hide away. Oh, I believe in yesterday…Suddenly…" And the song goes on, will go on, forever, or awfully close to it.
Rock 'n roll. Dan Tredway had a place for rock 'n roll, too.
Mory, Community Church Pastor Steve Moorhouse and Dan's pastor at United Congregational Church, Sandra Edwards, managed the service in grand style. Each of them, one could easily tell, knew Dan Tredway. They spoke of his inclusiveness, of his untiring faithfulness, of his love for his family and for humanity in general.
"Dan knew that we are all connected," Mory said.
Edwards said, "Dan will live on in the legions of teachers he trained. Teach on, Dan!" she said.
"We are gathered today to honor a great life," the pastors said. We were there because Dan honored us every day.
To have your children stand to tell of their love for you, to say that they will spend their own lives trying to emulate yours, well, those were Dan Tredway's sons. The rest of us can't expect to be so remembered. All we can do, the pastors said, is just the best we can.
"Dan was the kind of guy who, when he was with you, somehow gave you the idea you were his equal," one person said after the service - a person who was a student of Dan's over 30 years ago at Western.
That was true. But on Monday we learned otherwise.
Daniel Clyde Tredway was born Nov. 25, 1928, in Winfield, Kan., to Iva and Clyde Tredway. Dan was raised in Burden, Kan., received his Bachelor's degree from Southwestern College, in Winfield, his Master's from the University of Northern Colorado, in Greeley, and his E.D.d from the University of Wyoming. He spent 50 years in education, 44 of those years at the university level. He came to Western State College in 1965, from the University of New Mexico, in Albuquerque. He still loved Albuquerque, he liked to say, because of its "diversity." He retired from Western in the year 2000.
Dan married Nancy Livingston in 1955, and fathered four boys: Mark, Matt, Doug and David.
Dan dedicated his life to his family and to serving his community. He served on the nursing home board for eight years, the Gunnison School Board for eight years, he co-chaired the committee to pass the bond issue to build the new schools in Gunnison and Crested Butte. He was a leading force in the Ruland Project and helped secure that land for WSC. He was currently serving on the Gunnison Area Foundation Board and was recently elected to serve on the newly formed County Tourism Board.
Dan was always an integral part of his church and in the past few years was part of the steering committee of the United Congregational Church.
Dan's hobbies included a huge garden, collecting and polishing rocks, hunting and fishing, jewelry-making, and a successful side business turning aspen into beautiful vases and lamps. He was an avid reader, and had a knowledge base that was unparalleled.
Dan enjoyed walking the hills and collecting the wood for his business, always taking a dog or a grandchild in tow.
He never missed a sporting event of his own boys and traveled all over the state to watch his grandkids play sports, sing, or participate in their various activities.
Dan is survived by his wife, Nancy; his four sons and three daughters-in-law, Dana, Kaylonn and Melinda; and six grandchildren, Jansen, Danielle, Tillie, Levi, Ariel, and Hannah; and his brother, Richard. He is also survived by 14 great-nieces and nephews. He was preceded in death by his parents and a granddaugther, Jessica.
Dan served in the United States Army and was a veteran of the Korean War.